uPVC Doors Bournemouth

Highly Versatile uPVC Doors in Bournemouth
At Immaculate Home Improvements, we are confident that we have a uPVC door to suit any Bournemouth home. With over 25 years of experience in the industry, our products are guaranteed to deliver high performance across the board. Our uPVC doors are precisely engineered to offer the absolute best in security, durability and thermal efficiency while being cost-effective and incredibly easy to maintain. We work closely with Sternfenster to design uPVC doors that no matter the style of your home, from the most modern space to the most traditional heritage property, our uPVC doors will be a great addition.
We offer a full-service supply and fit service for our uPVC doors, so you can be sure that Immaculate Home Improvements will be with you every step of the way. Our team aims to give you the highest quality products, with the best possible service.
Read on to find out more about our Bournemouth uPVC doors, and the ways in which they will benefit your home.
Thermally Efficient uPVC Doors in Bournemouth
Our Bournemouth uPVC doors host incredible thermal efficiency. Our doors are proven to save you money on the running costs of your home. Homes will trap warm air and remain warm and comfortable all year around. You will rely less heavily on your central heating throughout the British winter, which means you'll save money on the running costs of your Bournemouth home.
uPVC is also a highly recyclable material, which means people can reuse them afterwards. Our Bournemouth uPVC doors are inherently environmentally sustainable and eco-friendly.
Secure uPVC Doors in Bournemouth
Our uPVC doors feature internal steel reinforcements, high-security hinges, as well as multi-point stainless steel locking systems. Our locking systems offer incredible security performance, made from exceptionally high-grade steel. Our Bournemouth uPVC doors have met the standards for the Metropolitan Police's Secured by Design initiative, implying that our products have undergone meticulous crime prevention testing, to ensure they meet the highest levels of security.
If you would like further proof of the incredible security, our uPVC doors offer, our highly experienced staff would be happy to carry out a full safety demonstration for you. We will show you the safety benefits, and offer helpful suggestions on how to improve security throughout your home. We also offer a range of additional security features, such as additional hinge protection bolts and anti-drill and anti-snap door barrels. Our laminated glass and reinforced design are another fantastic way to tighten security on your home.
A Range of Styles and Colours
We offer a huge range of Bournemouth uPVC doors to suit any home and personal preference. Our products are available in standard white, a range of vibrant colours, or authentic woodgrain foils. We also offer several practical and decorative hardware options. Please take a look at our beautiful range of doors in Bournemouth.
uPVC Doors
Our uPVC front doors are the perfect addition to any Bournemouth property. They provide optimal levels of security, durability and thermal efficiency, ideal for all-around performance. With a range of colours and hardware options available, our doors complement any home. Fully weatherproofed, these doors will keep your home protected from the elements for years to come.
French uPVC doors are the perfect way to let light into any home. Featuring a flying mullion, when opened, these doors offer full, unobstructed views of your surroundings. These doors provide incredible ventilation, without taking up a lot of space.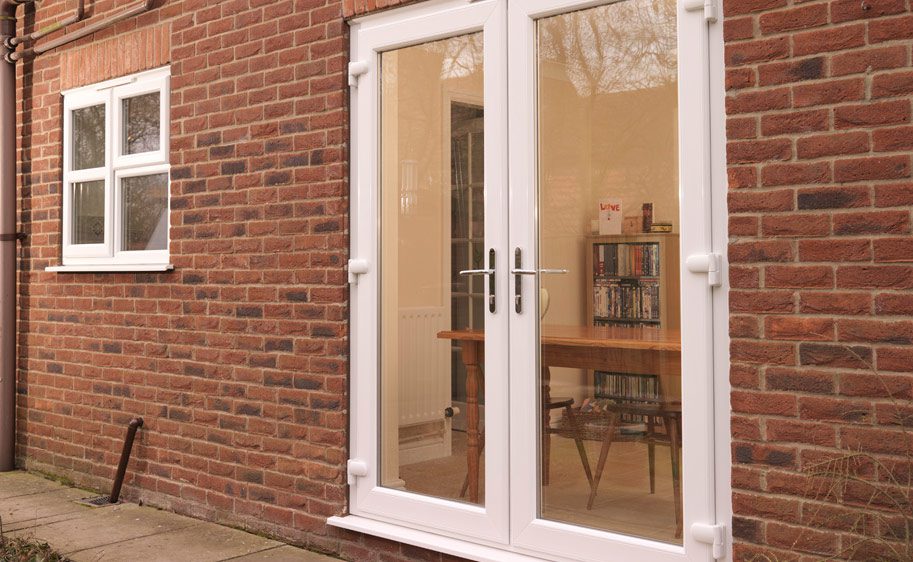 These uPVC patio doors are the perfect way to gain easy access to your garden. Our sliding doors take up no additional space while open. These are appropriate for cosier properties where it is necessary to be economical with space.
Bournemouth uPVC Doors Prices
If you would like to find out more about our beautiful Bournemouth uPVC doors, please do not hesitate to use our contact page and get in touch. Our team of highly skilled professionals would be happy to answer any queries you may have, and provide you with as much extra information as you need about our products.
If you would prefer an instant quote, please use our online quoting engine. We will have a quote for you in two minutes and will offer extremely competitive prices. When you use our quoting engine, you are under no obligation to buy.